Accountability for torture - will we EVER see it...?
i'm not wild about this decision, to say the least, but i might find it a little easier to swallow IF it was combined with an announcement that those responsible for authorizing the torture-based interrogation techniques were going to be held accountable... unfortunately, whatever hope i might have held for the restoration of accountability and the rule of law under obama is fast fading...
Administration: No Charges Over CIA's Enhanced Interrogations
Justice Department releases Bush-era legal memos about harsh techniques used by CIA interrogators on terrorism suspects. Obama says that no charges will be filed against CIA agents who were operating "in good faith."
in case we've lost sight of just exactly WHO is accountable, here's the february 7, 2002, memorandum from george bush officially opening the door to the whole goddam mess...
Page 1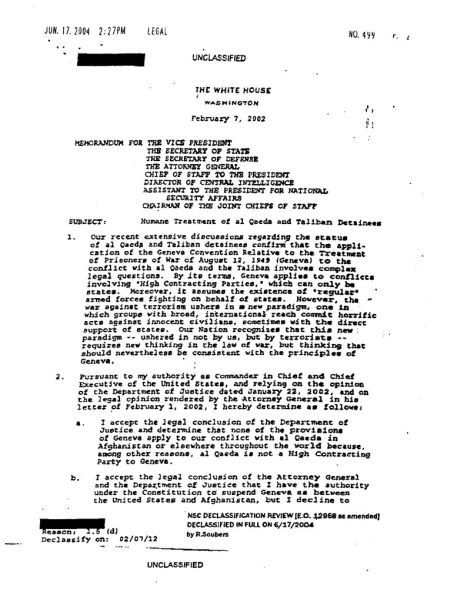 Page 2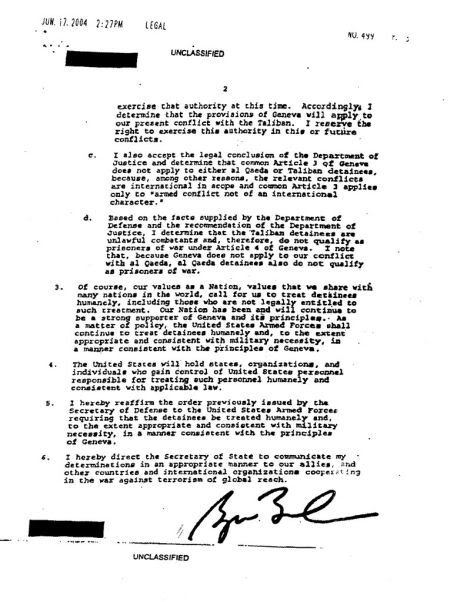 and here's the december 2, 2002, memo from donald rumsfeld adding his authorization to those techniques... this is the memo that contains the infamous hand-written comment from the donald asking why, when HE stands for 8-10 hours a day, a detainee is limited to only 4 hours...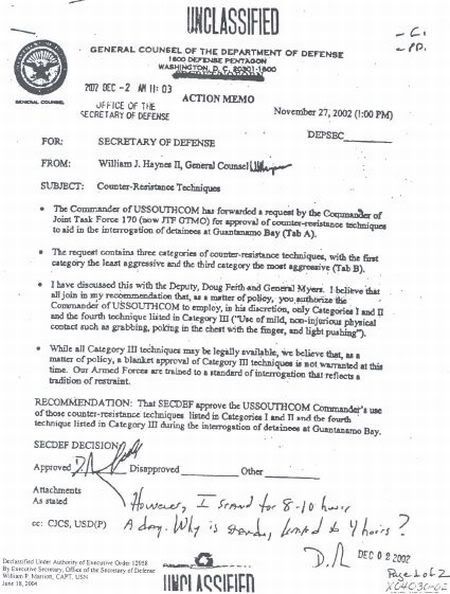 here's the january 25, 2002, alberto gonzales memo specifically waiving the geneva conventions...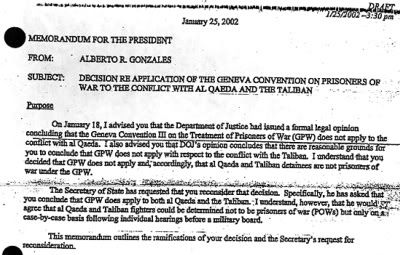 below are links to the complete list of the specific techniques that were authorized for use in iraq on september 14, 2003, by general ricardo sanchez, who has since tried to cover his ass, a la richard armitage (see previous post), by repudiating the use of "enhanced interrogation techniques," AFTER perjuring himself before the senate armed services committee on may 19, 2004 (see my archive of previous posts here)...

General Ricardo Sanchez, Interrogation and Counter-Resistance Policy, Transmittal Memorandum
General Ricardo Sanchez, Interrogation and Counter-Resistance Policy, Cover Memorandum
General Ricardo Sanchez, Interrogation and Counter-Resistance Policy, Interrogation Techniques, A-L
General Ricardo Sanchez, Interrogation and Counter-Resistance Policy, Interrogation Techniques, M-X
General Ricardo Sanchez, Interrogation and Counter-Resistance Policy, Interrogation Techniques, Y-CC

General Ricardo Sanchez, Interrogation and Counter-Resistance Policy, Interrogation Techniques, General Safeguards
Labels: Alberto Gonzales, Barack Obama, CIA, Department of Justice, Donald Rumsfeld, enhanced interrogation techniques, George Bush, Iraq, Ricardo Sanchez, torture
Submit To Propeller
Tweet