Fifteen years of an exemplary life in the U.S. only to get thrown into a detention center and left to die
this is so wrong...
He was 17 when he came to New York from Hong Kong in 1992 with his parents and younger sister, eyeing the skyline like any newcomer. Fifteen years later, Hiu Lui Ng was a New Yorker: a computer engineer with a job in the Empire State Building, a house in Queens, a wife who is a United States citizen and two American-born sons.

But when Mr. Ng, who had overstayed a visa years earlier, went to immigration headquarters in Manhattan last summer for his final interview for a green card, he was swept into immigration detention and shuttled through jails and detention centers in three New England states.

In April, Mr. Ng began complaining of excruciating back pain. By mid-July, he could no longer walk or stand. And last Wednesday, two days after his 34th birthday, he died in the custody of Immigration and Customs Enforcement in a Rhode Island hospital, his spine fractured and his body riddled with cancer that had gone undiagnosed and untreated for months.

On Tuesday, with an autopsy by the Rhode Island medical examiner under way, his lawyers demanded a criminal investigation in a letter to federal and state prosecutors in Rhode Island, Connecticut, Massachusetts and Vermont, and the Department of Homeland Security, which runs the detention system.
detention watch network has put together this handy map...
Detention Map

Welcome to the world of immigration detention, where over 27,500 immigrants are detained on any given day across the country in a hodgepodge of federal detention facilities, county jails, and private for-profit prisons.

Are there immigrants detained near you?
Click on a state to zoom in; touch a dot and get more info.

The map includes contact information for:



Facilities known to detain immigrants in removal proceedings (yellow dots on map)
Immigration and Customs Enforcement district offices (black dots)
Legal service organizations who provide representation or referrals to immigrants detained (blue dots)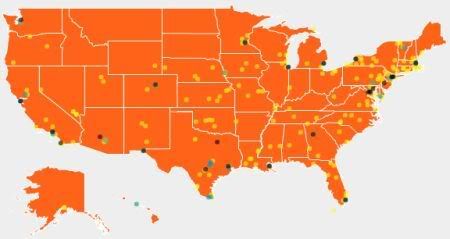 just look at the number of yellow dots... just imagine how many detainees are collectively represented on this map... appalling...
Labels: detention centers, Detention Watch Network, Immigrant Detainees, immigration, Immigration and Customs Enforcement, Office of Detention and Removal
Submit To Propeller
Tweet