A two-week media appearance schedule for an Iraq war pimp

Brig. Gen. (Ret.)
David L. Grange
this schedule of appearances for one retired general pimping for the bush administration and the iraq war covers a period of a little more than two weeks, from march 12-26, 2003...

from media matters database via empty wheel...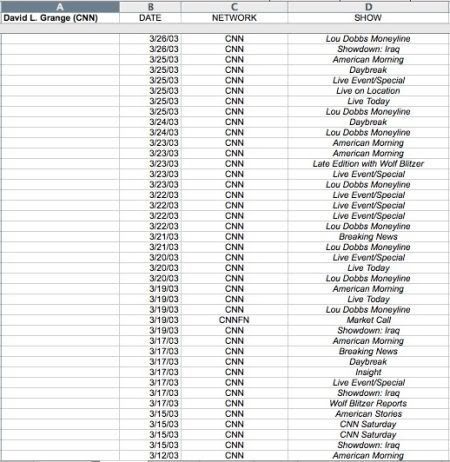 (click on image for larger version)
it's a tough job spreading lies but i guess somebody's got to do it...

he currently works for the chicago tribune's robert mccormick foundation in chicago... here's his bio... see if you can spot the jaw-dropping irony in the first sentence...
Brig. Gen. (Ret.) David L. Grange is a regular commentator on CNN during the current war.

During his 30 years of military service, Grange commanded at all ranks up through Major General. He operated in Ranger, Special Forces, Aviation, Delta Force, and Infantry units throughout the world to include the DMZ of Korea, SE Asia, SW Asia, Germany, former Warsaw Pact countries, Grenada, the Middle East, Central and South America, Africa, Russia, and the Balkans.

Grange attended Army Infantry, Special Forces, Ranger, HALO, Scuba, Air Assault, and Aviation training; the U.S. Marine Corps Command and General Staff College; the British S.A.S. Course, the Delta Course; the National War College, and earned his master's degree in public service at Western Kentucky University.

While serving in the Pentagon, Grange served as the Deputy Director and Director of Army Current Operations, Readiness and Mobilization; and was responsible for coordinating military support within the United States in response to natural disasters and for domestic preparedness against acts of terrorism.

Prior to retirement, Grange commanded the First Infantry Division, "The Big Red One," in Germany, TF Eagle in Bosnia, and U.S. troops in Macedonia and Kosovo.
the "CURRENT WAR"... ya gotta love it...
Labels: CNN, David Grange, emptywheel, Iraq, lies, Marcy Wheeler, media, Pentagon, propaganda, spin
Submit To Propeller
Tweet