The U.S. considers Iran to be a threat...?
izzat so... let's go to the visuals...

first, a comparison of military spending, iran vs. the u.s...
now, let's look at a map of the u.s. military bases that literally surround iran...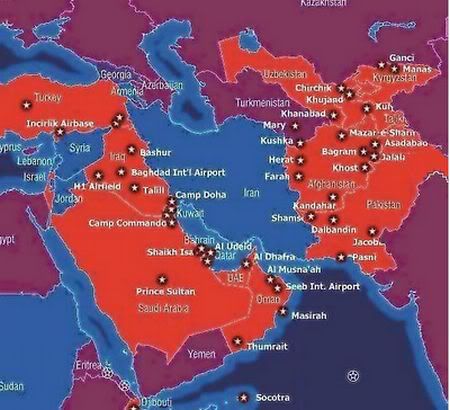 glenn comments...
Indeed: imagine if the blue in that map were the U.S. (rather than Iran), and the large red areas were Mexico and Canada (rather than Iran's neighbors), and the stars represented Iranian military bases. Then further imagine that Iranian political leaders and media figures routinely told their population that it was the U.S. that was an aggressive, threatening power that had to be stopped: the mocking condemnations of that level of propaganda would be endless. Yet American political officials and commentators feel free to insist, with a straight face, that Iran is an aggressor nation posing a serious threat to the U.S.: such a serious threat, in fact, that war may be necessary to stop it. And there is, tragically, little doubt that if there is an attack on Iran by Israel — with direct U.S. involvement or, more likely, U.S. support and approval — there will be little opposition in either American political party, and even less challenge to the ludicrous claims about the Grave Iranian Threat that will be invoked to justify it.
yesterday, in response to the incessant sabre-rattling, people took to the streets...
Hundreds of protesters demonstrated Saturday in New York and pacifist groups took to the streets in dozens of other US and Canadian cities in a "Day of Mass Action" against a possible war with Iran.

About 500 protesters gathered in Manhattan's Times Square and marched to http://www.blogger.com/img/blank.gifthe headquarters of the US mission to the United Nations and to the Israeli consulate.

"No war, no sanctions, no intervention, no assassinations," read a banner leading the march.

The demonstrations came as Europe and the United States slapped tough new sanctions on Iran, and Israel this week launched new threats of military intervention if the Islamic republic fails to rein in its suspected nuclear development program.

There is heightened speculation that Israel is contemplating air strikes against Iranian nuclear facilities, fueled in part by US Defense Secretary Leon Panetta's comments to the Washington Post in which he said he believes there is a "strong possibility" that Israel will launch such air strikes this spring.
our super-rich elites know how effective war is as a tool to keep the u.s. population in line... so far, that strategy has bought them almost ten and a half years counting from the time of the start of the afghanistan war through the iraq war and right on to the present day... now, with iraq "finished" and afghanistan slated to "wind down" soon, i'm sure they're just itching to get another one going... my prediction...? this time it's not going to happen...
Labels: Afghanistan, elites, Glenn Greenwald, Iran war planning, Iraq, Israel, Leon Panetta, protestors, Sanctions, super-rich, U.S. military bases
Submit To Propeller
Tweet