Moyers: Freedom of and From Religion
the war on contraception and birth control...
Bill Moyers Essay: Freedom of and From Religion from BillMoyers.com on Vimeo.
The Catholic bishops had cast the president's intended policy as an infringement on their religious freedom; they hold birth control to be a mortal sin, and were incensed that the government might coerce them to treat it otherwise. The president in effect said: No quarrel there; no one's going to force you to violate your doctrine. But Catholics are also Americans, and if an individual Catholic worker wants coverage, she should have access to it -- just like any other American citizen. Under the new plan, she will. She can go directly to the insurer, and the religious institution is off the hook.

When the president announced his new plan, the bishops were caught flat-footed. It was so ... so reasonable.

[...]

So the battle over contraception no longer seems apocalyptic. No heavenly hosts pitted against the forces of Satan. It's a political brawl, not a crusade of believers or infidels. The president skillfully negotiated the line between respect for the religious sphere and protection of the spiritual dignity and freedom of individuals.
meanwhile, in a farce worthy of monty python, women are barred from a congressional hearing on birth control...
Birth control witness panel photo – made up completely of men – goes viral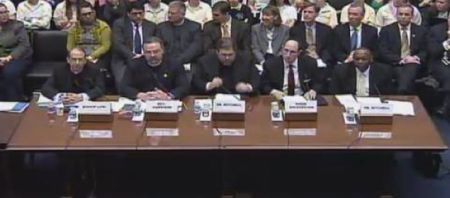 via @thinkprogress Twitter
Photo of the witness table at GOP hearing on proposed birth
control benefit measure.
Labels: Barack Obama, Bill Moyers, birth control, Catholic Church, Congress, contraception, religion
Submit To Propeller
Tweet