Our F— You System of Government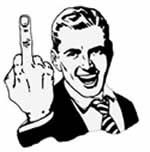 this says it all...
Sick? Too bad.

Can't find a job? Tough.

Broke? Can't afford rent? We don't give a crap.

Forget "e pluribus unum." We need a more accurate motto.

We live under a f— you system.

Got a problem? The U.S. government has an all-purpose response to whatever ails you: f— you.

[...]

When mentally disabled people seek help from their government, they get the usual answer: f— you.

When people addicted to drugs—drugs imported into the U.S. under the watchful eyes of corrupt border enforcement officers—ask their government for help, they are turned away. F— you again.

When people who lost their homes because their government said "f— you" to them rather than help turn to the same government to look for safe shelter, again they are told: "f— you."

And then, after days and years and decades of shirking their responsibility to provide us with such staples of human survival as places to urinate and defecate and sleep, and food, and medical care, our "f— you" government has the amazing audacity to blame us, victims of their negligence and corruption and violence, for messing things up.

Which is why we are finally, at long last, starting to say "f— you" to them.
let's keep saying it...
Labels: arrogance, elites, Occupy Wall Street, super-rich
Submit To Propeller
Tweet