Occupy Reno
I've signed on to keep FDL members informed about Occupy Reno (see here).

On Wednesday, the Occupy Reno members appeared before the Reno City Council (see front page article here). A 90-day permit was approved for the old municipal pool site on Moana Lane. The $35 per day ($1100 per month) fee was waived and the permit filing fee of $103 was donated by a City Councilman.

Some smugness and condescension was in the air, however, as the Councilman expressed doubts that many "occupiers" would turn out given that Reno's winter temps are quickly taking hold (down to the mid- to upper-20s at night now and soon to be lower with the likelihood of occasional snow).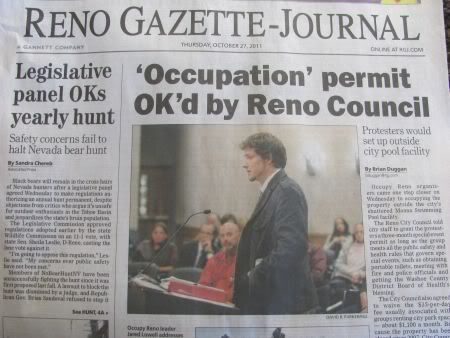 Occupy Reno organizers came one step closer on Wednesday to occupying the property outside the dormant Moana Pool.

The Reno City Council told city staff to grant the protesters a three-month special event permit as long as the group meets all the public safety and health rules that govern special events, such as obtaining portable toilets, meeting with fire and police officials and getting the Washoe County District Board of Health's blessing.

The City Council also agreed to waive the $35-per-day fee usually associated with groups renting city park space -- about $1,100 a month. Because the property has been shuttered since 2007, City Council members said Reno wouldn't be losing or gaining anything with the waiver.

[...]

If the permit is approved, city staff said it will continue to work with organizers to ensure all of the regulations are being met while drawing up plans to extend the permit if needed. County health officials will keep an eye on the encampment, too.

So far the Occupy Reno movement hasn't conflicted with local authorities, instead drawing compliments from city staff and Reno Police Chief Steve Pitts on Wednesday for being willing to work out all the legal details before setting up camp on city property.

In fact, Councilman Dave Aiazzi said he would personally pay for the organizer's $103 permit filling fee.

[...]

Aiazzi said he was comfortable approving the special event permit in October, as opposed to May, with winter just around the corner. Other members agreed.
A General Assembly was held at the site last evening. The GA agenda is posted on the Occupy Reno website here.

A clean-up of the site is scheduled for today. I've been struggling with the flu or I would have attended the General Assembly. I hope to make the clean-up this morning and, if I do, will have some video to share.

Stay tuned.
Labels: Occupy Reno, protests
Submit To Propeller
Tweet