South Africa Sunday photo and YouTube blogging: the Hadada Ibis right off my terrace
i had heard the squawking call of what i had presumed to be a species of crow or raven several times yesterday but had never caught sight of the source... yesterday afternoon, i was kicking back with the terrace door wide open and was startled by the same call, only this time very close... i grabbed the camera and carefully made my way out on the terrace to find this interesting bird systematically hunting grubs and worms in the grass...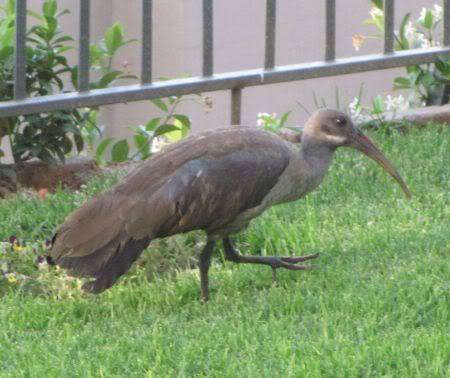 Hadada Ibis
i had never seen a bird like it and was fascinated watching it go about its business... i noticed that any movement i made caught its eye prompting it to once again make its distinctive screech... i was able to catch it on this youtube clip...
this morning, i resolved to find out what kind of bird it was and came across this wikipedia entry and photo...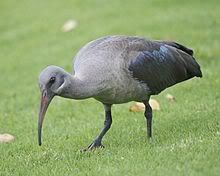 The Hadada is a large (about 76 cm long), dark brown ibis with a white "moustache", glossy greenish purple wings, a large black bill with a red stripe on the upper mandible, and blackish legs. It has a distinctively loud and recognisable haa-haa-haa-de-dah call that is often heard when the birds are flying or are startled, hence the name. The Hadada Ibis is found throughout open grasslands, savanna and wetlands of Sudan, Ethiopia, Senegal, Uganda, Tanzania, Gabon, Zaire, Cameroon, Gambia, Kenya, Somalia and South Africa. It can also be seen in urban parks and large gardens.
lots of new things for me to see if i keep my eyes open...
Labels: birds, Hadada Ibis, Johannesburg, South Africa
Submit To Propeller
Tweet