Al Jazeera reporter Ayman Mohyeldin detained by Egyptian Army [UPDATE]
this happened just a few hours ago and they don't know where he's been taken... reporters without borders is on the case...

watch here...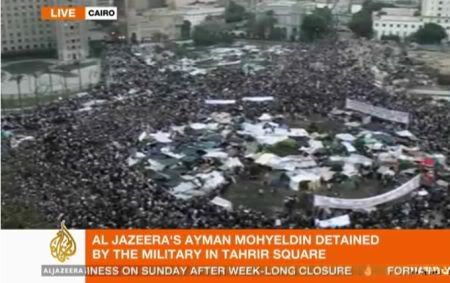 [UPDATE & BUMPED]
good news...
Ayman Mohyeldin, an Al Jazeera correspondent who was detained while covering the unrest in Egypt, has been released.

He was seized by the Egyptian military near Tahrir Square in Cairo on Sunday, but was freed seven hours later following a concerted appeal by the network and supporters of Mohyeldin.

There had been many calls on Twitter for the release of Mohyeldin, who has more than 20,000 followers on his page.

Dozens of journalists have been detained, injured and threatened while covering events in Egypt, where hundreds of thousands of people have taken to the streets calling for an end to the 30-year rule of Hosni Mubarak, the president.

Nadia el-Awady, president of the World Federation of Science Journalists, told Al Jazeera that both foreign and Egyptian media workers were being specifically targeted during the protests.

Speaking about her experiences reporting from Tahrir Square, she said: "There were pro-Mubarak civilian-clothed people planted within the square that were trying to instigate other protesters to get angry.

"They tried to create this kind of mob mentality among protesters to get angry at the journalists."
classic strategy of the super-rich elites and their puppets - incite, divide, polarize, provoke violence, and conquer...
Labels: Al Jazeera, Ayman Mohyeldin, egypt, Hosni Mubarak, protestors, Reporters Without Borders
Submit To Propeller
Tweet