This makes me so very sad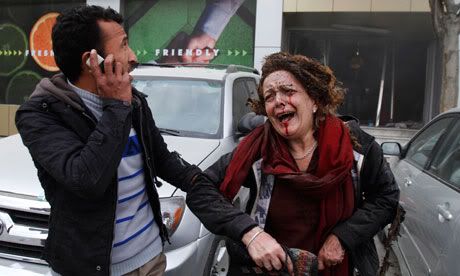 An injured woman is escorted out of the supermarket in Kabul,
Afghanistan, where a suicide bomber killed several people.
Photograph: Rahmat Gul/AP
i've shopped at this supermarket a number of times... it's right next door to a most pleasant restaurant where i've had several most enjoyable meals in a lovely garden... several people i know live close by...
An attack by a suicide bomber on a busy Kabul supermarket close to the British embassy has killed eight people, including one child and wounded six, including up to three foreigners.

Afghan security officials were still removing bodies from the upmarket Finest supermarket in the Afghanistan capital's diplomatic neighbourhood as distraught relatives waited for news.

Kabul's police chief, Mohammad Ayub Salangi, confirmed claims by witnesses that today's attack was carried out by a single suicide bomber.

In a text message sent to the Guardian and other media organisations the Taliban's spokesman claimed responsibility for the blast, saying they were targeting the "head of Blackwater company in Afghanistan". There is no confirmation that any employee of the private US security contractor, now know as Xe Services, was in the shop at the time.

A supermarket worker, who had been packing customers' shopping, said he heard two grenades being thrown on the ground. He initially thought were falling glass bottles but when he saw they were grenades he sprinted out the front door seconds before the blasts, which were followed by the main explosion of the suicide bomb.
meanwhile, my country continues firing at people on the ground - militants and civilians alike - from unmanned drones being flown by people sitting behind computer consoles in the high desert of the u.s... when and where does this insanity stop...?
Labels: Afghanistan, insanity, Kabul, military drones, suicide bomber
Submit To Propeller
Tweet