Dark humor, kinda pathetic actually
does anyone else besides me see the tasteless, morbid irony captured in this picture...?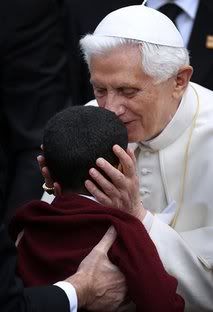 Pope Benedict XVI kisses the head
of a boy, as he arrives for a celebration
of Catholic education at St Mary's
University College, Twickenham,
London Friday Sept. 17, 2010. Pope
Benedict XVI is on a four-day visit,
the first-ever state visit by a Pope
to Britain.

otoh, i've always been both a fan and a practitioner of dark humor...
Labels: child sexual abuse, God's rottweiler, Joseph Ratzinger, Pope Benedict, United Kingdom
Submit To Propeller
Tweet