Warren Buffett - "Were it not for government bailouts ... many of his company's stock holdings would have been wiped out"
so much for the legendary "oracle of omaha"...

from rolfe winkler, blogging at reuters...
A good chunk of his fortune is dependent on taxpayer largess. Were it not for government bailouts, for which Buffett lobbied hard, many of his company's stock holdings would have been wiped out.

Berkshire Hathaway, in which Buffett owns 27 percent, according to a recent proxy filing, has more than $26 billion invested in eight financial companies that have received bailout money. The TARP at one point had nearly $100 billion invested in these companies and, according to new data released by Thomson Reuters, FDIC backs more than $130 billion of their debt.

To put that in perspective, 75 percent of the debt these companies have issued since late November has come with a federal guarantee.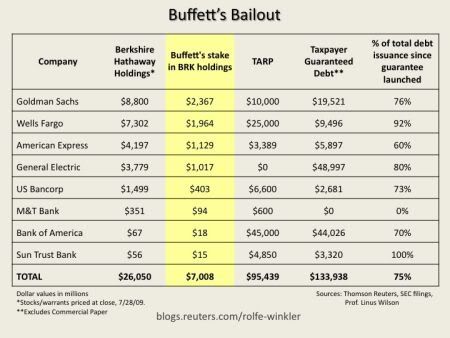 Without FDIC's debt guarantee program, even impregnable Goldman would have collapsed.

And this excludes the emergency, opaque lending facilities from the Federal Reserve that also helped rescue the big banks. Without all these bailouts, the financial system would have been forced to recapitalize itself.

Banks that couldn't finance their balance sheets would have sold toxic assets at market prices, and the losses would have wiped out their shareholder's equity. With $7 billion at stake, Buffett is one of the biggest of these shareholders.

He even traded the bailout, seeking morally hazardous profits in preferred stock and warrants of Goldman and GE because he had "confidence in Congress to do the right thing" — to rescue shareholders in too-big-to-fail financials from the losses that were rightfully theirs to absorb.
a mitigating view from raw story...
To be fair, his holding company, Berkshire Hathaway, has received no government aid. In fact, Berkshire became a major lender in the wake of frozen US credit markets, injecting $5 billion into General Electric, Goldman Sachs and even motorcycle-maker Harley Davidson at hefty interest rates.
the lesson here...? the super-rich can pretty much do what they want and say what they want and still take comfort in the thought that they will only continue to get richer no matter what...
Labels: bailout, Berkshire Hathaway, FDIC, Omaha, Raw Story, Reuters, super-rich, TARP, Warren Buffet
Submit To Propeller
Tweet