Another left turn in Latin America, this time in El Salvador [UPDATE]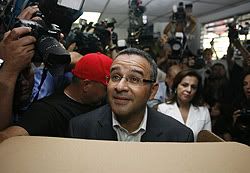 Mauricio Funes,
El Salvador president-elect
there's only a very few right-wing or center-right countries left in latin america, most notably mexico and colombia... most others are heeding the call of their citizens and rejecting the slavish obeisance to unfettered capitalism and wholesale privatization...
A party of former left-wing guerrillas has taken power in El Salvador following presidential elections over the weekend.

The FMLN candidate Mauricio Funes is the latest in a string of leftist politicians to come to power in Latin America in recent years.

He narrowly beat Rodrigo Avila from the ruling conservative Arena party, according to election officials.

The FMLN fought a civil war against the Government of El Salvador from 1981 to 1992, when peace accords were signed.

It subsequently became a left-wing political party, but Mr Funes is a moderate politician and former journalist who was chosen as presidential candidate from outside the FMLN ranks.
good for el salvador...
[UPDATE]
more on funes...
A charismatic former TV journalist promised to build strong ties with President Barack Obama and promote investor confidence Monday as he took El Salvador into uncharted territory by being elected its first leftist president.

Behind Mauricio Funes is a party of former Marxist guerrillas that fought to overthrow U.S.-backed governments in the 1980s and whose rise to power has raised fears of a communist regime in the war-scarred Central American country.

Funes, who gave up journalism less than two years ago to become the presidential candidate of the Farabundo Marti National Liberation Front, or FMLN, sought to quell those concerns after his historic victory Sunday.

"Nothing traumatizing is going to happen here," he said in an interview with local Megavision television. "We will not reverse any privatizations. We will not jeopardize private property. There is no reason at this moment for fear."
and here...
The apparent victory of leftist candidate Maurico Funes in Sunday's presidential election in El Salvador finally closes out the Cold War in Central America and raises some serious questions about the long term goals of U.S. foreign policy.

With Funes' election, history has come full cycle. Both El Salvador and neighboring Nicaragua will now be governed by two former guerrilla fronts against which the Reagan administration spared no efforts in trying to defeat during the entire course of the 1980's. We will now coexist with those we once branded as the greatest of threats to our national security. Those we branded as "international terrorists" now democratically govern much of Central America.

Funes, once a commentator for CNN's Spanish-language service, comes to power representing the Farabundo Marti National Liberation Front (FMLN), a Marxist guerrilla group-turned-political -party, an organization that the U.S. government once described in terms now reserved for Al Qaeda and Hizbollah.
el salvador has had to deal with some very, very rough times over the years, not the least of which was the horrific slaughter wreaked by its involvement with operation condor and the school of the americas (see my previous posts here, here, and here...)
Labels: Central America, El Salvador, Latin America, leftists, Mauricio Funes, Operation Condor, School of the Americas
Submit To Propeller
Tweet