My kinda guy, my kinda life...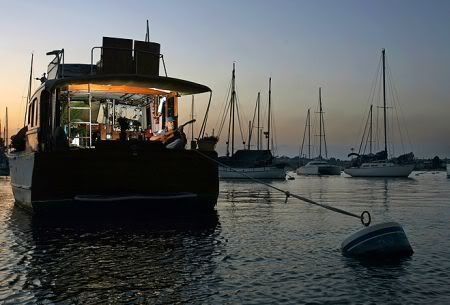 Living the dream
well, it's not exactly MY dream, but pretty damn close...

from the la times...
Eight years ago, Dave Dixon set himself some lofty goals, especially for an unemployed, twice-divorced middle-aged man with no savings. He wanted to live on the water in Newport Beach. He didn't care to work too much. And he aspired to play golf and tennis several times a week.

Today, Dixon, 60, is living his dream, albeit with some compromises. He lives aboard a weathered, beat-up 37-foot mahogany boat he bought on a credit card for $10,000. Lacking a permanent mooring, he often is forced to anchor in the open sea off Corona del Mar, and for hot showers he uses the Orange County Harbor Patrol's guest facilities.

Yet he works only about 15 hours a week, singing at private parties and two Orange County restaurants to cover his lean $565 in monthly expenses (not including food). He gets out on the tennis court or links almost every day, enough to whittle down his golf handicap to seven and his weight by 40 pounds. And he is rocked to sleep each night by the rhythm of the water, surrounded by multimillion-dollar views of the bay.
altho' i pretty much live this kind of life right now, going where i want, and doing what i want, i also have a need to be able to use my talents (and those talents don't include singing, believe me!)... the challenge is finding venues to use those talents that don't include chaining me to a desk or otherwise placing me in indentured servitude...

check out the slide show... it will make the wage slaves among you weep...
Labels: LA Times, leisure, living the dream, wage slaves
Submit To Propeller
Tweet