Parking a U.S. aircraft carrier right off your shores is only a "REMINDER"? Bollocks...!
yeah, yeah... "they" "say" a lot of things, but since when does what "they" "say" have anything to do with what "they" "do"...?
The U.S. Navy has temporarily added a second aircraft carrier in the Gulf as a "reminder" to Iran, but this was not an escalation of American forces in the region, U.S. Defense Secretary Robert Gates said on Tuesday.

Speaking to reporters during a trip to Mexico, Gates flatly denied a suggestion that the presence of two U.S. carriers in the Gulf could be a precursor to military action against Tehran.

"This deployment has been planned for a long time," Gates said. "I don't think we'll have two carriers there for a protracted period of time. So I don't see it as an escalation. I think it could be seen, though, as a reminder."

He declined to elaborate on his remarks and provided no details about the deployment.

Pentagon spokesman Geoff Morrell said the second carrier arrived in the Gulf on Tuesday to replace one on duty that was expected to depart the region in two days.
for one thing, the gulf is a small area... even ONE carrier plus all the ships that comprise a carrier battle group parked in the gulf where there's an honest-to-god transit point that's so narrow that it doesn't even contain any international water* (see below), takes up one hell of a lot of space...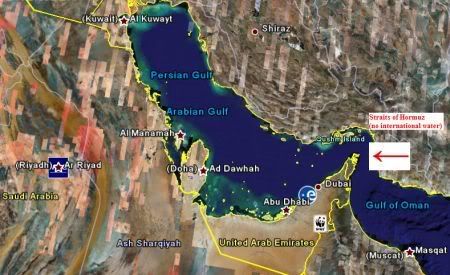 * Strait of Hormuz

Ships moving through the Strait follow a Traffic Separation Scheme (TSS), which separates inbound from outbound traffic to reduce the risk of collision. The traffic lane is six miles (10 km) wide, including two two-mile (3 km)-wide traffic lanes, one inbound and one outbound, separated by a two-mile (3 km) wide separation median.

To traverse the Strait, ships pass through the territorial waters of Iran and Oman under the transit passage provisions of the United Nations Convention on the Law of the Sea.[1] Although not all states have ratified the convention,[4] most states, including the U.S.,[5] accept these customary navigation rules as codified in the Convention.
stop and think about this for just a minute... check out the google earth image of the bay of fundy below... now, imagine a russian aircraft carrier on station in the middle, complete with all the ships that make up a carrier battle group... got that...? what do you think the canadian government would think of it...? what do you think the u.s. government would think of it...? how about the residents of nova scotia...? of new brunswick...? of maine...? what do you think of the possibility that it could ever happen before the first snowfall in hell...?
what's endlessly fascinating to me is that we in the u.s. don't stop for a second to think about the over-the-top arrogance of our own country sending an aircraft carrier and an entire carrier battle group to park right in the middle of half a dozen other countries as though we owned the entire chunk of real estate ourselves... imagine the shoe on the other foot...
Labels: Iran, Oman, Persian Gulf, Robert Gates, Strait of Hormuz, U.S. aircraft carrier, United Nations
Submit To Propeller
Tweet